Now that the NFL Draft is over, Rookie Draft season is in full bloom. A successful Rookie Draft can accelerate the rebuilding or reloading process. Is Trent Richardson the clear cut No. 1 pick? Is RGIII a better Dynasty prospect than Andrew Luck? Blackmon or Floyd? Now that you're On the Clock, we'll take a look at your options from each draft position in the first round of your Rookie Draft.  




1.1 Trent Richardson
While the NFL has gone away from the workhorse running back and to the air attack, Trent Richardson is a special talent. Bell cow backs may be disappearing, but elite RB's can win you fantasy championships. He has the potential to be a Top 5 RB as soon as this year. On the downside, he runs with a controlled violence and may have a short, but productive fantasy peak. You can't worry about that now, take the Beastly talent and enjoy the instant returns.
The Other Options: Even though Richardson definitely the consensus No. 1 overall pick in Rookie Drafts, he's certainly not the only option. One could not be blamed for taking a shot at Andrew Luck or even Robert Griffin III here, especially if you play in a 2QB, QB heavy or more than 14 team league. Both are considered elite talens in their own right and could be at the helm of your Dynasty team for the next decade plus, long after Richardson has stopped being an effective runner. 




1.2 Andrew Luck
Our No. 1 Dynasty ranked player is not Trent Richardson, it's the best QB prospect since John Elway. The shelf life of even elite RB's is short lived, while a franchise QB can carry a team for potentially twice as long. Luck brings everything you'd want in QB, including underrated athleticism. High ceiling, high floor player that makes him worth the risk if you need a long term answer at QB.
The Other Options: If anyone passed on Richardson for a QB at 1.1, he's the obvious pick here. If you missed out on Richardson at 1, Doug Martin represents a potential RB1 in what should be a run heavy offense. RGIII has more fantasy upside and is in a better situation for 2012, but a lower floor as well. Justin Blackmon is also an option here if you need to strengthen your WR corp. 




1.3 Doug Martin
A complete RB prospect, Martin lands in a fertile fantasy situation. The Bucs and new coach Greg Schiano plan to play power footage and with only LeGarrette Blount returning to the roster, there is major opportunity. Martin does not have an elite skillset, but he is solid to above average in every area and should be a valuable fantasy asset as soon as his rookie season. Blount may steal some carries and even a few TD's, but Martin has a chance to be one of very few bellcows. He's a candidate to be overdrafted in re-draft leagues because of his situation and the impending sleeper hype that is sure to follow. 
The Other Options: This is a desirable draft position. You probably aren't getting Richardson unless you play in a QB heavy league, but the quality choices are aplenty. One of the QB's is certainly not a bad selection here to anchor your Dynasty team. If your QB situation is all set, it's down to Martin or Blackmon. While we shouldn't expect Blackmon to be an AJ Green or a Julio Jones type, he's got a desirable fantasy skillset. Should you need the most help at WR, Blackmon is a fine choice at 3rd overall.




1.4 Robert Griffin III
RGIII enters the NFL with Beastly expectations. The Cam Newton / Mike Vick comparisons are everywhere you look. He's already been named the Redskins starter. He does have a Newton-esque fantasy ceiling, but expecting him to take the league by storm as a rookie would be setting yourself up for disappointment. Very exciting prospect with dual ability that will be a franchise QB on your Dynasty team. He's worth trading up for in your rookie draft if you are in desperate need of a QB.
The Other Options: Justin Blackmon is the only other candidate unless someone above RGIII falls into your lap here. Michael Floyd is nipping at Blackmon's heels and maybe if you have a huge need and believe in his potential, you could theoretically extend for him here. It's a slight reach though and you might find someone willing to trade in here and give you a decent haul to do so. 




1.5 Justin Blackmon
Blackmon is a fine consolation prize, boasting a well rounded skillset and a high floor. It's the leftover spot in this year's Rookie Draft, but certainly nothing to sneeze at. He'll be the Jaguars go-to receiver in short order and he'll have a solid but not threatening Laurent Robinson as his 2. If Blaine Gabbert doesn't have the deer in the headlights look in 2012, Blackmon could churn out some big fantasy games. Either way, expect the QB situation to improve by 2013, either by improvement from Gabbert, a healthy and confident Chad Henne or outside competition. Draft his talent, not his current situation. 
The Other Options: Limited options if you are looking at Best Player Available. If you prefer Michael Floyd to Blackmon, he makes sense. He's got an established WR1 across from him that should help his development and maturity. He's also got a slightly better QB situation at the moment. Maybe you take Ryan Tannehill if you are in a 2QB league and in need of a starter. Other than that, every prospect is a reach at the 5 spot.




1.6 Michael Floyd
There might not be much of a choice with this selection assuming you are going for value. Chances are spots 1-5 go in some type of order as outlined above, depending on team needs and league settings. Michael Floyd will be learning on the job from one of the best in the game. With Larry Fitzgerald as a mentor and a hopefully improved QB situation, Floyd could have an instant, albeit inconsistent, impact. Long term, he has WR1 upside, but likely settles in as a solid 2. 
The Other Options: Assuming the Top 5 are gone and you are not a Floyd fan, David Wilson is solid value here and Coby Fleener could be a Top 5 TE in Dynasty. There are a few other wideouts that have just as much upside as Floyd, but with more risks - Kendall Wright, Stephen Hill, Brian Quick and Alshon Jeffery all deserve consideration. 




1.7 Kendall Wright
Wright was anywhere from outside of the No. 1 receiver in the Draft Class to outside the Top 5, depending on who you ask. His situation is not as bad as it seems on the surface, as he and Kenny Britt could be a dynamic tandem in a few years. His skillset should allow him to excel as a Robin to Britt's Batman, profiling as more of a WR2 or 3. Wright is dangerous with the ball in his hands and an explosive talent. There is potential for Wright to fall in Rookie Drafts as owners opt for more high upside types. If he falls past the first round, he's a must draft. 
The Other Options: David Wilson should see carries right away on a high powered Giants offense, he's a high upside pick that could eventually be a low-end RB1 type. There are also a few wideouts with more upside than Wright, who will likely top out as a WR2. Stephen Hill also lands in a tough spot, but has sky high upside and an equally low floor. Alshon Jeffery should be able to make a fantasy impact in Year 1, and the same can be said for the Colts Coby Fleener. 




1.8 David Wilson
This is where the draft can go in a number of different directions. Wilson brings supreme athleticism and ability to the Giants, a team in need of RB depth. Given starter Ahmad Bradshaw's foot injuries and Brandon Jacobs departure, there is an instant opportunity for Wilson to show what he can do in a prolific offense. While he may only be in line for a handful of carries a game to start the season, he gives the offense another dimension and could make more of an impact as the season goes on (or with a Bradshaw injury). Short term, he's capped by Bradshaw's presence, but this is a high upside landing spot for Dynasty leagues. 
The Other Options: From here on in the Draft, the choices are wide open depending on team needs and point systems. There are three high risk, reward receivers that could easily be selected inside the Top 10. Stephen Hill is raw, but might find himself thrust into a starting gig immediately. Brian Quick is more polished for a small school prospect and he's got serious opportunity in St. Louis. Alshon Jeffery is a polarizing prospect that could have 2012's biggest fantasy impact at the position. If you are desperate for a franchise tight end, Coby Fleener is as good of a prospect as you can get in the Draft this year. In deep and 2QB leagues, Ryan Tannehill and Brandon Weeden are options here as well and will likely be off the board before the middle of the second round. 




1.9 Stephen Hill
Raw upside that is unmatched at the position, Stephen Hill is certainly a tantalizing talent. He came into draft season as a 3rd or 4th round pick, but blew up the Combine and was getting 1st round hype. He ended up going early in the 2nd round to the Jets, who have a huge need at receiver. Hill needs time to develop and right now he is no more than a deep threat, but his long term upside is as massive as his wingspan. 
The Other Options: If you are not into taking a risk on Hill here, the 1.9 offers a character/conditioning risk in Jeffery. Brian Quick is not far behind Hill in the upside category either and profiles as a potential instant contributor for the Rams. Mohamed Sanu, an athletic possession receiver out of Rutgers, is a less risky option, but also offers less of a fantasy ceiling. If you are in a PPR league, however, he is an excellent pick here. Fleener is the only TE to consider in the first round, although he might drop into the mid-2nd depending on how your draft plays out. If you need an RB, you have a few different options but Isaiah Pead offers the most value. He is being billed as Steven Jackson's ultimate successor, but profiles as more of a dynamic change of pace type. Still, he's in a nice situation to be a high upside handcuff in 2012. 




1.10 Alshon Jeffery
A volatile stock saw him go from first receiver off the board after a monster 2010 season to potentially falling into the 3rd round after an up and down junior season. He has some work ethic and weight question marks that will need to be answered, as well as his ability to separate at the pro level. What's not in question are his ball skills and redzone potential. Jeffery lands in a nice spot on the WR-needy Bears, where he could reek havoc alongside Brandon Marshall. If he stays in shape and maximizes his potential. 
The Other Options: If you are turned off by Jeffery's question marks, Brian Quick offers just as much physical potential. Fleener could have just as much of a fantasy impact as any receiver and offers solid value at the end of the 1st round. Other than Isaiah Pead, a few other RB's come into play late in the round. Lamar Miller had 1st round fantasy rookie talent, but fell into the 4th round in the actual draft. His landing spot with the Dolphins is not quite as daunting as it seems on the surface, when you consider that Reggie Bush is a free agent after this year and Daniel Thomas with a lot to prove. Ronnie Hillman put up major numbers at San Diego State and lands in a backfield that was desperate for speed. Oh, and it's the same backfield that Peyton Manning will be in, making it an intriguing landing spot. Sanu may not have the upside of Jeffery, Hill or Quick, but there is some Anquan Boldin in his game and he should not be overlooked. If you are picking here, he's not going to be there in the 2nd by the time it gets to you, so if you like his skillset, you could reach a few spots to grab him.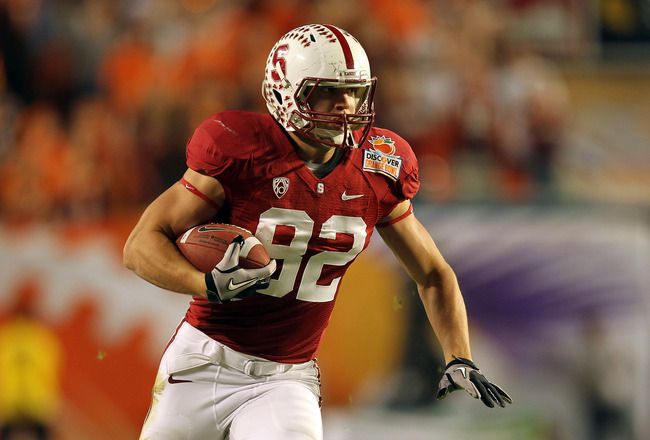 1.11 Coby Fleener
The tight end position is evolving and Coby Fleener fits right in with the new era. He's a below average blocker but offers major upside as a pass catcher. He'll offer college teammate Andrew Luck a familiar target as the rookies look to break into the NFL. Fleener could be one of the most impactful rookies in the draft class, given his ability and landing spot.
The Other Options: If you own Steven Jackson, you might be looking to trade in here and land Isaiah Pead. The other RB's are situational selections and represent a slight reach with the other talent available. Brian Quick has all the upside you could want out of a late first round rookie pick. Rueben Randle has intriguing potential, but will need to bide his time behind Hakeem Nicks and Victor Cruz for the time being. Sanu will have to battle with talented and pro-ready Marvin Jones out of the gate, but he projects as a solid WR2 in time. If you have a solid QB1 and are looking for a developmental type with upside, Ryan Tannehill could be your guy here. He's a bit of a reach in a 10 or 12 team 1QB league at the end of the first, but if you can be patient with him, he may pay dividends. 




1.12 Brian Quick 
The Rams need to give Sam Bradford weapons and adding a player like Brian Quick is an excellent start. He offers the size and ability that is not found on the roster currently. (To be fair to Danario Alexander, he has flashed this ability in the past, but cannot seem to stay healthy or remain consistent enough to be an impact talent). He has excellent speed for a 6'4", 220 lb. receiver and could push for a starting job immediately. Should he continue to develop, Quick has WR1 fantasy potential as a true go-to receiver. 
The Other Options: Rueben Randle is not likely an instant return type of prospect, but he could grow into a very productive fantasy WR2 if he continues to develop. Mo Sanu is intriguing to some because of his athletic ability, but not to others because of a perceived lack of upside. Other WR options at this point are not as talented as Quick and offer less of a fantasy ceiling than Sanu. 




1.13 Isaiah Pead
The Rams have needed to groom a replacement for Steven Jackson for a few seasons now. Isaiah Pead has the skillset of a dangerous, limited touch, 3rd down back, but they feel like he could be SJax's heir. That remains to be seen, but nonetheless, he is worthy of a late 1st or early 2nd round pick based on potential. He'll likely play 2012 as a situational back, returner and high upside handcuff. If you own Jackson, you might want to reach for him a few spots ahead of this just to make sure you cover yourself. Pead is an electric playmaker with the ball in his hands and he gives Sam Bradford another weapon in the passing game. While he may not be physical enough to handle 20+ touches per game at the NFL level, he's still got RB2/3 upside. 
The Other Options: If you don't own Jackson or don't believe Pead is anything more than a change of pace type, you might want to look at your other options. Tannehill or even Weeden could help out your QB situation or be trade fodder later this season should either one show flashes of their potential. Rueben Randle and Mohamed Sanu are our two highest rated receivers left, but A.J. Jenkins is also an option. While no one likes to hear that he showed up to camp out of shape, Jenkins has an underrated skillset that could play well in San Francisco. Other RB options include the shifty Ronnie Hillman, who might have a 2012 opportunity in Denver and Lamar Miller, whose potentially Beastly talent is not indicative of his NFL draft position. 




1.14 Mohamed Sanu
Mo Sanu has received a reputation already as a prospect with a limited fantasy ceiling. While he does lack top end speed, that is not his game. He plays physical and has after the catch ability because of his athletic ability. He has more of a PPR skillset, but his style of play and ball skills will allow him to be a perfect Robin to AJ Green's Batman. He will not be handed the job however, as he'll be competing with pro-ready prospect Marvin Jones, who the Bengals took in the 5th round. He will be used similarly to T.J. Houshmandzadeh, as the underneath threat that can move the chains one reception at a time.
The Other Options: Wanting to gamble on a higher upside type with your pick at 14th overall? Rueben Randle has the ceiling of a Top 15 receiver, but less of a chance for a 2012 impact behind Cruz and Nicks. A.J. Jenkins has similar upside to Sanu, but a completely different skillset and at least 3 receivers currently ahead of him in San Fran. RB options are going to start coming off the board within the next round. Top remaining options include Ronnie Hillman, Lamar Miller and even LaMichael James, although he may be a reach this early. 




1.15 Ronnie Hillman
Do you put more weight on talent or situation in your Rookie Draft? Ronnie Hillman was drafted into a potentially very lucrative situation that only has a plodding Willis McGahee and underwhelming Knowshon Moreno ahead of him on the depth chart. That is not to suggest he is without talent, however. While he doesn't have the pedigree of the backs drafted ahead of him, he was ultra productive in two seasons at San Diego State.  He's undersized at 5'9" and 200 lbs. but proved capable of handling a bellcow workload. He's just 20 years old and his skillset is an excellent match for what the Broncos and Peyton Manning are trying to do on offense. Do not automatically assume he will not be a between the tackles runner. Landing spot and upside pushes him into the late first/early 2nd round consideration.
The Other Options: Plenty of talent on the board if you are not a fan of Hillman. Lamar Miller is a better pure talent and LaMichael James might be as well. Rueben Randle represents solid value at this point in the draft. If you are in a PPR league, you could reach a bit for Ryan Broyles or even A.J. Jenkins. Tannehill should go off the board within the next few picks.  

Next Up

Quarterback
Ryan Tannehill has the makings of a potential QB1, but remains a very risky prospect because of his lack of experience at the position. He's worth an early pick if your league places high values on franchise QB's. Brandon Weeden does not have sky high upside and at 29 years old, he does not scream Dynasty cornerstone, but he has potential to be a solid QB2 in time. You'll know by the end of 2013 whether or not he's going to make it in the NFL as a starter. Instant opportunity. 

Running Back
Lamar Miller was being taken consistently inside the 1st round before the NFL Draft. His drop to the 4th round and the Dolphins murky situation have cooled his hype train. Take advantage of that and grab him in the 2nd or even 3rd round. While not a future featured back, LaMichael James could definitely turn some heads as a dynamic weapon for Jim Harbaugh. He joins a crowded RB picture in San Fran, but brings a skillset not shared by any of the other backs. Bernard Pierce and Robert Turbin are two handcuff options that could come off the board in the next round or so. Neither represent sky high upside, but solid bench options for 2012 with the potential for more. 

Wide Receiver
Rueben Randle has 1st round talent and a different landing spot would likely have reflected that in an appearance in the Top 15 here. Take the talent and be patient in the short term, he has long term upside worth the wait. Was A.J. Jenkins overdrafted? Probably in the NFL Draft, but he's a candidate to be underrated in your rookie draft. His skillset is legit and he was a coveted prospect with WR2 upside. Ryan Broyles is the career leader in receptions but is coming off of a November ACL tear. He profiles as a slot receiver with major PPR upside. He's more quick than fast, but very shifty and has excellent hands. Greg Childs was looking like a potential 1st or 2nd round pick before a patella tendon tear in 2010 crushed his stock. He's big and physical and is getting his speed and agility back to pre-injury levels. Could be a steal for the Vikings in the 4th round, but he's not lasting that long in your Rookie Draft most likely. He's worth a 2nd round pick because of his fantasy ceiling and opportunity in Minnesota. 

Tight End
If you own Antonio Gates or are in desperate need of an elite TE, Ladarius Green is worth the risk in the late 2nd or 3rd round of your Rookie Draft. Outside of him, no tight end will likely get drafted until at least the 3rd or 4th round. 

Be sure to check out all of our 2012 Draft Coverage.