The Tight End position is revolutionizing the NFL...and Fantasy rosters. Teams are spreading the ball out more and we are seeing an emergence of TE's producing WR1-2 type numbers.  Rob Gronkowski and Jimmy Graham types are the new prototypes - 6'5" - 260 lb Beasts with elite size, strength and ability. They create mismatches because they are too quick for linebackers to cover and much too physical and big for safeties. The other TE trend is the Aaron Hernandez H-back type that is closer to 6'2" and 240 lbs. who has athletic ability and speed to dominate in a different way. This year's class has some serious potential at the top. Let's take a closer look at some of the top TE prospects. 

Beast Potential - A cornerstone only reserved for the truly elite prospects. Example from 2011 - None
Starter Potential - Will never be elite but a long term, reliable starter is a high probability. Example - Kyle Rudolph
Raw Product - This player has tremendous upside, but also comes with a high risk factor. If things break right, a Beast or definite starter could be had. Example - Julius Thomas
Developmental Product - These players are extremely raw talents but possess the upside necessary to eventually grow into legit fantasy options. Example - Luke Stocker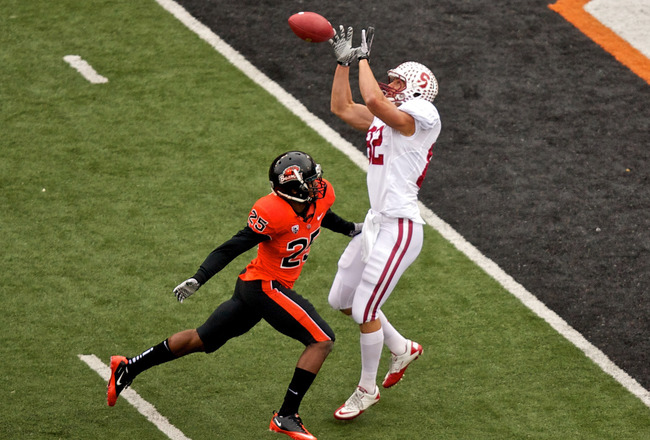 Coby Fleener

College: Stanford (Senior)
Height-Weight: 6'6" 247 lbs.
Upside: Beast Potential
Player Comparison: Jermichael Finley
Comments: Fleener might just be the first TE off the board in the NFL Draft and with good reason. He has the size and speed to be dangerous as a pass catching threat and playmaker. He is a great route runner, has reliable hands and can do damage in the redzone. He may not have the ultimate upside of Orson Charles, but has a much higher floor and could be considered a safer bet to reach his potential. 
Tools/Skillset: Fleener has go-to ability in the passing game. Athletic and explosive. Potentially elite. 
Dynasty Rookie Draft Grade: 1st Round Selection

Orson Charles

College: Georgia (Junior)
Height-Weight: 6'2" 251 lbs.
Upside: Beast Potential
Player Comparison: Aaron Hernandez
Comments: While not possessing the prototypical height and blocking skills of a traditional TE, Charles makes up for it with his athletic ability and strength. Explosive ability for a TE and excellent hands, but needs to show consistency and maturity. He is not NFL ready, but could have an instant impact on talent alone. In the right situation, he can be a true TE1 and top notch fantasy asset. 
Tools/Skillset: Charles fits the profile of the new age TE, one that is more of a large WR. He is a downfield threat that offers the sought after defensive mismatch because of his athletlcism.
Dynasty Rookie Draft Grade: 2nd Round Selection

Ladarius Green

College: Louisiana-Lafayette (Senior)
Height-Weight: 6'6" 237 lbs.
Upside: Developmental Product
Player Comparison: Jared Cook
Comments: Another athletic pass catching TE, Green has the raw ability to be a Beast. Built like a very large WR, he moves like one as well. He has large, soft hands and his frame gives the QB a large, dynamic target. Lacks the strength of an elite TE and needs to refine his game (route running, blocking) to get on the field at the next level. May take him a year or two to acclimate to the speed of the NFL, but has intriguing Dynasty potential. 
Tools/Skillset: Green is far from a complete TE, but as a passing threat, he has serious upside. High fantasy ceiling, low floor type. 
Dynasty Rookie Draft Grade: 3rd Round Selection

Dwayne Allen

College: Clemson (Junior)
Height-Weight: 6'4" 255 lbs.
Upside: Starter Potential
Player Comparison: Brandon Pettigrew
Comments: Close to NFL ready, Allen has the skills to be a franchise NFL tight end. Coming from a pro-style offense, he offers polished route running, soft hands and the ability to separate. Could be a reliable fantasy starter and an asset in the redzone. Allen might be the safest TE prospect in the Draft, but ultimate fantasy upside may not be elite level.
Tools/Skillset: Allen has every down potential and low end TE1 upside as a pass catcher. Strength and polish make him an interesting instant impact type. 
Dynasty Rookie Draft Grade: 3rd Round Selection

James Hanna

College: Oklahoma (Senior)
Height-Weight: 6'4" 252  lbs.
Upside: Developmental Product
Player Comparison: Lance Kendricks
Comments: Was Hanna underutilized at Oklahoma? Sure looks that way if you look at how he took the Combine by storm. He certainly has the speed and ideal size to fit the mold of the new NFL TE. There is serious workout warrior potential here, but his upside makes him worthwhile. Hanna might be a player whose game matures later than others and hits his stride on Sundays. 
Tools/Skillset: High risk, high reward skillset that may take time to get on the field. Could be an eventual starting TE with elite athleticism.
Dynasty Rookie Draft Grade: 4th Round Selection

Deangelo Peterson

College: LSU (Junior)
Height-Weight: 6'3" 243 lbs.
Upside: Raw Product
Player Comparison: Dustin Keller
Comments: SIze is a hurdle, but one he can easily jump over with his athleticism. He was not utilized much in the passing game at LSU and therefore remains more of an unknown
than most prospects. He did not have a great Combine, but improved focus and the right situation could make him a fantasy weapon. He has the strength to overpower defenders and the ability to gain significant yards after the catch. May not ever be much of a blocker, but a creative offensive coordinator could use him as the receiving half of a rotation or in 2 TE sets. 
Tools/Skillset: Peterson is undersized, but has a substantial fantasy ceiling. Will take time to develop, but speed and hands could make him a reliable target. 
Dynasty Rookie Draft Grade: 5th Round Selection


Late Round & Free Agent Pick-ups
Michael Egnew (Missouri) does not possess the athleticism to be a high impact fantasy TE. His size and strength will help him out and while he is a sure handed target, he offers little after the catch. Solid, but unspectacular prospect. If he lands in the right situation, though, could be a PPR asset in time. Possible late round Dynasty Rookie Draft selection depending on landing spot. 

Evan Rodriguez (Temple) is a versatile athlete whose size might have him a fullback / tight end tweener. What he does have is a solid receiving prowess with YAC ability despite only slightly above average speed. 

Chase Ford (Miami) has huge fantasy potential, but equally as huge bust potential. Possessing ideal size and hands with solid route running ability and body control. Will be held back by his average speed and burst, but can make an impact. Long term prospect. 
Drake Dunsmore (Northwestern) is a receiving tight end that lacks size and may get pigeon-holed into an h-back role. Has raw strength/build with pass catching ability like a large WR. Pay attention to his landing spot and position designation.
David Paulson (Oregon) has enough athletic ability and potential to be an every down TE option if he continues to work at his craft. He will enter the league as a raw product with some versatility in his game. He showed good hands at Oregon but has dropped some passes in the offseason. He'll need to improve in order to be fantasy relevant, but keep an eye on where he goes in the Draft.

Kevin Koger (Michigan) is a raw developmental type, but could be worth the wait. Enough size and strength to do some work as a receiving option, while providing solid blocking. Speed and technique limit initial upside, but he could be a solid TE2 if things break right. 

Be sure to check back for the QB, RB and WR Rookie Profiles coming soon!