The 2012 RB Draft Class definitely starts with Trent Richardson, the clearcut No. 1 prospect. It doesn't end there, however. While not as deep as the WR's this year, backs such as Doug Martin, Lamar Miller and Doug Wilson all have fantasy starter potential and could be worthy of a 1st Round Rookie selection. In addition, there are a number of later round RB's whose skillsets warrant your Dynasty attention. Let's take a look at the top prospects. 

Beast Potential - A cornerstone only reserved for the truly elite prospects. Example from 2011 - Mark Ingram
Starter Potential - Will never be elite but a long term, reliable starter is a high probability. Example - Roy Helu 
Raw Product - This player has tremendous upside, but also a huge amount of risk. If things break right, though, a Beast or definite starter could be had. Example - DeMarco Murray
Developmental Product - These players are extremely raw talents but possess the upside necessary to eventually grow into legit flex options and maybe someday weekly starters on your Dynasty roster. Example - Da'Rel Scott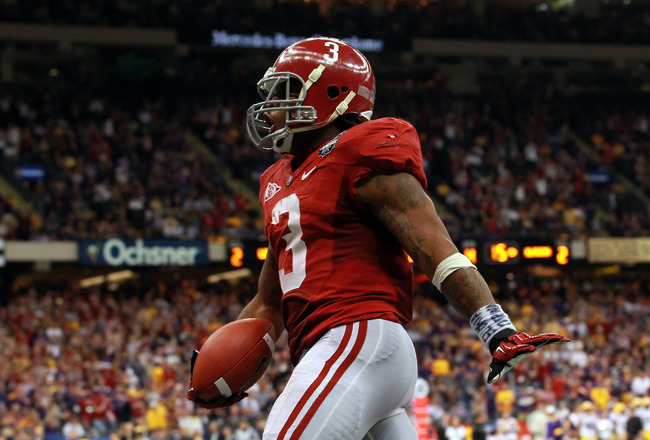 Trent Richardson

College: Alabama (Junior)
Height-Weight: 5'11" 228 lbs.
Upside: Beast Potential
Player Comparison: Maurice Jones-Drew meets Adrian Peterson
Comments: Richardson is one of the best RB prospects in the past 5 years. He played behind Mark Ingram as a freshman and sophomore and still managed 18 TD's and almost 2,000 yards. After Ingram left for the Draft, Trent exploded to the tune of 1,679 yards and 21 TD's on the ground along with 29 catches, 338 yards and 3 TD's through the air. He has a complete skillset with power rushing and receiving ability. He's explosive and runs with controlled violence. He's currently recovering from minor knee surgery and did not participate in the Combine. Has the ability to be a Top 5 RB as soon as this season and potential to be the top Dynasty RB in short order. Only blemish is a lack of elite speed. 
Tools/Skillset: Bellcow. Skyhigh upside and a clear top selection in a Dynasty Rookie Draft. Could be one of the last true workhorses. 
Dynasty Rookie Draft Grade: Top 3 Selection

Doug Martin

College: Boise State (Senior)
Height-Weight: 5'9" 223 lbs.
Upside: Beast Potential
Player Comparison: Mark Ingram
Comments: Martin has seen his draft stock steadily increase as the offseason went on. As a Bronco, he had 47 TD's in the past three seasons and over 1,500 total yards the past two. He has a rock solid build, runs with power and can break tackles with ease. He runs low to the ground a la Ray Rice that could make him an option at the goal line. One of only a handful of backs with true every down potential. Outside of Richardson, who is far and away the best prospect, Martin has the most complete game. Does everything above average, but nothing truly elite about his skillset. 
Tools/Skillset: Bellcow. Martin has three down back upside. With all of the RB needy teams, he could land in an instant impact spot. 
Dynasty Rookie Draft Grade: 1st Round Selection


Lamar Miller 

College: Miami (Redshirt Sophomore)
Height-Weight: 5'11" 212 lbs.
Upside: Starter Potential
Player Comparison: Jamaal Charles
Comments:  While he does not profile as a typical every down back, Lamar Miller brings a potentially high upside skillset to the NFL. Lethal with the ball in his hands, any play can be a home run. Managed over 1,200 yards and 10 total TD's as a redshirt sophomore in 2011. Has a dynamic quality in his game, but needs to improve in passing downs to get himself on the field more often. Needs to show toughness between the tackles and work on his pass protection skills. Could contribute immediately, but not likely to reach full fantasy potential for at least a few seasons. Jamaal Charles represents what could be Lamar Miller's lofty ceiling, but he'll need to maximize his skills to reach it. Even as a 10-15 touch a game RB, he has value because of his speed. 
Tools/Skillset: Speedy, change of pace type that would function best as part of a platoon. Could be a high output, minimal touch type because of speed and playmaking ability. 
Dynasty Rookie Draft Grade: Late 1st / Early 2nd Round Selection

David Wilson 

College: Virginia Tech (Junior)
Height-Weight: 5'10" 206 lbs.
Upside: Starter Potential
Player Comparison: DeAngelo Williams
Comments:  After 9 TD's in just 128 touches as a sophomore back-up to Ryan Williams, Wilson was pushed into a featured role in 2011. He responded with over 1,700 yards and 10 total TD's. Virginia Tech has a RB friendly system that produces some big statistics, but Wilson has skills to back it up. He has a nice burst and power to go along with above average speed. Very athletic and has ability to make shifty moves to turn small plays into big gains. Had an impressive Combine performance and could find his way into a fantasy friendly situation on Draft day. Fumbling issues and lack of ideal size are the two major issues with his game, but if he can hold onto the ball his other assets could make it hard to keep him off the field. 
Tools/Skillset: Complete back upside is there for Wilson, but much like Lamar Miller, he'd be better served as the lead option in a timeshare. With receiving ability and explosiveness, he could be a very valuable fantasy back. 
Dynasty Rookie Draft Grade: Late 1st / Early 2nd Round Selection

LaMichael James

College: Oregon (Junior)
Height-Weight: 5'8" 194 lbs.
Upside: Raw Prospect
Player Comparison: CJ Spiller
Comments:  With diminutive RB prospects, the first question is always "Will they be durable against NFL pounding?" James already has some injury concerns and his frame does not inspire too much confidence in his ability to stay healthy. There is no reason to think he cannot be a valuable RB though, despite those concerns. LaMichael runs with strength for his size, not unlike a Jacquizz Rodgers. Has playmaking speed that will add a new dynamic to any offense. Would be best served starting out as a 5-10 a game touch player, moving into possibly a double-digit type as his game matures. 
Tools/Skillset: For a creative offensive mind, James could be a unique weapon and explosive fantasy threat. Will be hard pressed to have more than RB2/3 upside, but a worthwhile Dynasty selection in the 2nd round or later. 
Dynasty Rookie Draft Grade: 2nd Round Selection

Chris Polk 

College: Washington (Senior)
Height-Weight: 5'11" 215 lbs.
Upside: Starter Potential
Player Comparison: Ben Tate
Comments: Polk has been a workhorse for the Huskies, getting 226 or more carries in each of the past three seasons. As a senior, he rattled off 1,488 rushing yards, 12 TD's, 31 catches for 332 yards and 4 more TD's. He's built for power and runs well between the tackles. He does not put the football on the turf and has solid hands to be an asset in the passing game. What he lacks is more than average speed and athleticism. He did not impress this offseason and has seen his stock drop some. Could be a value in NFL Draft and also your Dynasty draft should he fall to the middle rounds. Possesses solid, but not elite upside at the next level.
Tools/Skillset: A traditional inside runner with strength and all around skills to be a lead back in the right situation. While not explosive, as elite tackle breaking ability that should help him pick up tough yards in the NFL and endear himself to his new coaching staff. 
Dynasty Rookie Draft Grade: 2nd Round Selection

Bernard Pierce 

College: Temple (Junior)
Height-Weight: 6' 218 lbs.
Upside: Starter Potential
Player Comparison: Marshawn Lynch
Comments: Pierce burst onto the scene as a freshman, with 1,361 yards and 16 TD's. After a subpar sophomore season where he missed 3 games, he returned to form as a junior with 27 TD's and over 1,500 total yards. Only has 19 career receptions and small hands, but could be at least adequate in the passing game. He shows excellent anticipation and vision, along with solid athletic ability. Has only average speed and not much explosiveness. Could stand to add a bit more bulk to his frame, but profiles as a short yardage, goal line and clock-killing type nonetheless.
Tools/Skillset: Could be a featured back if he develops and reaches full potential. Most likely, a solid RB2/3 type who shares time with a smaller speedy back. He could flourish in the right system. 
Dynasty Rookie Draft Grade: Late 2nd / Early 3rd Round Selection

Robert Turbin

College: Utah State (Redshirt Junior)
Height-Weight: 5'10" 222 lbs.
Upside: Raw Prospect
Player Comparison: Shonn Greene
Comments: As a redshirt junior, Turbin has shown growth in each of his 3 seasons at Utah State. In 2011, he had over 1,500 rushing yards, 19 TD's along with 17 catches, 171 yards and 4 receiving TD's. Missed all of 2010 with a knee injury. He has a very strong build with a one cut and go running style. Has decent quicks, but not much wiggle or speed. Not an explosive or particularly elusive runner, he's going to make his money running up the middle and finding the endzone. Can pick up tough yards after contact. 
Tools/Skillset: Turbin lacks a complete skillset or any special qualities, but he could be a very solid fantasy RB if deployed properly. Potential to have a year 1 fantasy impact. 
Dynasty Rookie Draft Grade: 3rd Round Selection

Isaiah Pead

College: Cincinnati (Senior)
Height-Weight: 5'10" 197 lbs.
Upside: Developmental Prospect
Player Comparison: Bernard Scott
Comments: Pead only has one season with over 200 touches and he was able to remain productive, although his YPC dropped from 6.6 to 5.3. An offseason riser, Pead definitely has excitement in his game. He's elusive and quick, but not overly powerful. His broad skillset will be his calling card, as he could be a return specialist and 3rd down back in the NFL. If he lands in the right system, he could be a gamebreaking asset. 
Tools/Skillset: Never going to be a volume back, Pead has RB3/Flex upside with another bump in PPR leagues. Versatile talent. 
Dynasty Rookie Draft Grade: 3rd Round Selection

Chris Rainey

College: Florida (Junior)
Height-Weight: 5'8" 180 lbs.
Upside: Developmental Prospect
Player Comparison: Dexter McCluster 
Comments: Rainey can fly. He may not be a true RB, but his potential as a playmaker gives him upside. He is more of an offensive weapon than an RB, much like McCluster coming out of college a few seasons ago. Would not be a surprise if he played more time lined up as a receiver than in the backfield. His receiving ability could make him an impact talent, but his fragile frame will always lead to durability concerns. Upside is that of a Darren Sproles type, but could just as easily be a rarely targeted decoy. 
Tools/Skillset: He may end up being a more valuable NFL player than fantasy one, but he's certainly intriguing. Expect potential Flex value and be happy if he develops into more. Bump up in PPR leagues. 
Dynasty Rookie Draft Grade: Late 3rd / Early 4th Round Selection

Late Round / Free Agent Pick-ups

Ronnie Hillman (San Diego State) is a redshirt sophomore that has been a very productive workhorse for the Aztecs. Rattled off more than 3,500 total yards and 38 TD's in two collegiate seasons. Has good height at 5'10" but at under 200 lbs. may not be able to handle a huge workload. More of a change of pace type, not a bellcow. Has smallish hands and needs to really work at becoming a better receiver. An exciting talent who could be a Dynasty riser this summer. 

Terrance Ganaway (Baylor) is a senior tailback that got his opportunity as a senior and made the most of it - to the tune of over 1,500 yards and 22 TD's. Has imposing size at 6' and 240 lbs. With RGIII and Kendall Wright causing headaches in the air, Ganaway had some very favorable matchups. At his best, he is a power back with decent speed that could rack up TD's at the next level. He can be very tough to tackle when he is gets going, a la Brandon Jacobs. But just as Jacobs has shown in recent years, Ganaway at times does not fully embrace his smashmouth role. With only 12 career catches at Baylor, he may not be a factor in the passing game at the next level. Best case scenario, he is a Michael Turner type, but even in a timeshare, he could develop into a solid fantasy back. 

Cyrus Gray (Texas A&M) had a solid but unspectacular collegiate career, never having more than 234 touches in a season. He's a committee back, but one with a solid skillset that brings some between the tackles rushing and also solid receiving ability. Solid combine helps his stock a bit, as does his speed, but Gray remains an injury risk. If he can manage to stay healthy, his utility player ability could garner him some touches as a rookie. Watch where he ends up as a likely middle to late round selection in the NFL Draft. The right situation could make him an intriguing Dynasty draft pick. 

Vick Ballard (Mississippi State) might be best known for falling during the Combine, but he has skills to be a legit Dynasty prospect. At 5'10" and 220 lbs., Ballard offers the power to be an inside rushing threat in the NFL. He scored 29 TD's in two seasons after two years at a Mississippi Community College. A no nonsense runner, he possesses solid ball security and good initial burst. Does not have gamebreaking speed, but enough to be effective. Aggressive, tackle breaking style and willing to fight for extra yardage. 

Bobby Rainey (Western Kentucky) is coming off of back to back 1,600 yard rushing seasons along with 65 receptions and 32 TD's over that span. He's undersized and will not be a workhorse at the pro level, but Rainey has some sleeper appeal. He has a quick burst and solid playmaking ability in the open field. Runs hard for a small back a la Ahmad Bradshaw. Could be a durability question mark and lacks elite level speed for his size. A solid receiver out of the backfield, that could be his early ticket to playing time. 

Tauren Poole (Tennessee) did not take the next step as a senior. After less than 200 yards in his first two seasons, he had his first 1,000 yard rushing season along with 12 total TD's as a junior. During 2011, though, he managed just 693 yards on 183 carries (3.7 ypc) as he battled a hamstring injury. On the positive side, he runs with good power for a back his size (5'10", 205 lbs.) and has improved his stock since the season ended. Poole is a versatile player with a broad skillset, but not a standout in any one area. He does have soft hands and upside in the passing game at the pro level. His speed is just a tick above average and coupled with his smallish frame, it could limit his ceiling. 

Edwin Baker (Michigan State) is another compact RB prospect that lacks elite speed. After a breakout sophomore season where he had over 1,200 yards and 13 TD's, he saw a big drop in his production as a junior. He managed just 665 yards and 6 TD's, but declared for the Draft most likely because of the presence of a more physically gifted Le'Veon Bell. Baker is a strong inside rusher, but small hands and lack of usage in the passing game hurt his overall upside. 

Bryce Brown (Kansas State) has had an interesting road to the Draft. He was one of the most sought after high school prospects in the country and landed at Tennessee. After a solid season as a true freshman, he transferred to Kansas State. After sitting out the 2010 season, Brown left K-State after just 3 games because of playing time issues. Not exactly the commitment and dedication that NFL teams are looking for. So, he ends his collegiate career with 104 carries, 476 yards, 3 TD's and 11 catches, 140 yards receiving and 1 TD through the air. What is intriguing about a guy with almost no college resume to speak of and clearly some devotion issues? Brown has a rock solid build, speed to be dangerous and raw athleticism. Obviously, he did not get much work in during the past three seasons, so he also has that going for him. The risks are aplenty, but Brown could really surprise if he gets his head on straight and dedicates himself to the game.

Be sure to read the WR and TE Rookie Profiles and check back for the QB Profiles coming soon!