There is a lot to be excited about with the current crop of young Dynasty prospects. Who is on the rise after the first week of action? Lets take a look.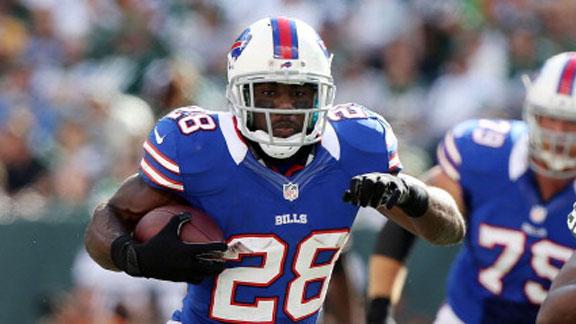 Fred Jackson's injury will sideline him for at least 3 weeks, and this paves the way for 3rd year RB C.J. Spiller to get an increased workload. He flashed playmaking ability in the open field on Sunday made his Dynasty stock rise, and shows potential to be a RB1. We are seeing the explosive offensive weapon that Buffalo drafted in the 1st round in 2010.
Alfred Morris is now the latest out of nowhere RB to take the helm under Mike Shanahan. The 6th round pick this April was 4th on the depth chart when the summer started. He came in and rushed for 96 yards with two TD's, but can you really rely on him? He has some Dynasty upside and is a RB3/Flex while he remains the starter, but Roy Helu and Evan Royster will push him for touches this season. It's a messy fantasy situation. 
We are only one game into his career, but boy does Robert Griffin III look like a BEAST already. The 320 passing yards and 2 TD with no INT's make him a potential re-draft QB1. His already rising Dynasty stock is currently skyrocketing. He looked extremely poised in the pocket which some people doubted he had coming into the season.
Pierre Garcon looks like RG3's favorite target as of now, hopefully Garcon's injury is not too serious. He's in line for the featured role in the Redskins aerial assault. Consider him a high upside WR3 for the remainder of the season and in Dynasty leagues.
Kevin Ogletree picked a perfect night to score his first two TD's of his career. When all is said and done, Ogletree racked up 114 yards along with those TD's. That perfomance sent his re-draft stock soaring from undrafted waiver fodder to hot pick-up. His Dynasty value is still questionable at the moment, but he's certainly worth a flier.
Julio Jones is a BEAST, and clearly Matt Ryan's go to guy now. Both player are taking a big leap towards becoming elite options. High yardage totals and multiple TD games could possibly be a regular occurance for the young and ultra-gifted WR. He's quickly getting an untouchable tag in Dynasty leagues.
As For Broncos WR Demaryius Thomas, he is on his way to becoming a steady WR1. He put up decent numbers with Tebow throwing him the ball, but a rebounding Peyton Manning could make him a star.
Yes, the Jets scored the most points in Week 1 after scoring the least in the preseason. The big reasons why were the play of Mark Sanchez and his new very large target, rookie WR Stephen Hill. The raw Georgia Tech product scored 2 of the Jets 6 TD's on Sunday. He has massive upside and his Dynasty stock is rising, but expect an inconsistent 2012.
Andrew Luck and Coby Fleener's chemistry is still intact in the NFL. Luck and Peyton Manning had almost identical stat lines in their Colts debuts. Despite throwing 3 INT's, he still looks poised under center and very advanced for a rookie QB. Fleener was targeted 10 times and caught 6 of them on Sunday, for 82 yards. He has TE1 potential in Dynasty and is a nice TE2 for 2012, with upside.