Get This Man a PBA Card.

January 14, 2013

The offseason has officially begun.

NJ police are rumored to want to talk to Kenny Britt in connnection with a shooting and a stabbing on Saturday night. He's not a suspect, just wanted for questioning.

Britt is always in some kind of trouble, though thankfully it usually is not very serious. Still, as a Dynasty owner you have to be concerned about more than just his health and QB situation. More on Kenny Britt and his Dynasty value coming soon.

In closing, how the Bengals didn't draft Kenny Britt is beyond me. He fits their organizational philosophy to a T.

_____________________________________________________________________

This Just In: Colin Kaepernick is good.
______________________________________________________________________
Draft Countdown is on...
With Alabama marching to their 2nd straight National Championship, another season of college football is in the books. In a few weeks, the NFL season will be over as well. And that means it's time for Dynasty Football owners to enter one of the best times of the year...preperation for the NFL Draft. So much potential and possibility with each prospect you research. BeastOrBust will be kicking off our Draft Coverage in a few weeks, starting with our Top 50 Dynasty prospects from the 2013 Draft. Enjoy the remainder of the Playoffs and check back for Draft prospect profiles, our Combine stock report and much more!
____________________________________________________________________________________________

Jets QB Mess
If you are a Jets fan, you should be hoping that the starting QB in 2013 is not on the roster. Mark Sanchez is owed a ton of money and the fact that the Jets think they can trade him is laughable. Tim Tebow was a headline grabber this offseason, but he was not given a real chance to perform and should be on his way to another team after the season. Greg McElroy is, well, not very good. 

The situation with the Jets is currently less than desirable, but a few improvements on offense could get them back into playoff contention. The QB position is job 1, though. They are not going anywhere until they figure that out. Malcontent Santonio Holmes might be back and raw rookie Stephen Hill should continue to develop. A workhorse RB would help, as Shonn Greene is a fall forward for 3 type and Bilal Powell is an average talent. 
Should be an interesting offseason in New York!
__________________________________________________________________________________________
Playoff Time

This is what you've been prepping for since last winter...the fantasy playoffs in your Dynasty league. You've researched the 7th round rookie draft picks for a sleeper,

scoured the waiver wire

and made some trades to sure up your starting lineup. All for a shot at the glory that is a fantasy football championship and the glory (and potentially prize money) that comes along with it. If you end up falling short, just remember that in Dynasty it's never too early to start planning for next season...the NFL Draft is only 4 months away.

Good luck Beasts!

________________________________________________________________________________________

Handcuff Season

Handcuff Season for Kenny Britt is typically February through July, but for fantasy owners, it's right now. Case and point...Bryce Brown of the Eagles. LeSean McCoy goes down in Week 11 with a concussion and Bryce steps in and dominates the Panthers to the tune of 178 rushing yards and 2 TD's. The McCoy owner that does not have Brown is sitting a little uneasy this AM, even if he or she has depth at the position. Especially with your Beast RB's, you want to have your bases covered in the event of an injury. If your bellcow misses 2 or 3 weeks during this time of year, it could be the difference between a championship and an early offseason.

Not every handcuff is going to explode like Brown did (see Jennings, Rashad), but in a redraft league, you need to protect your investment. Instead of stashing a guy like Titus Young, make sure you have Bernard Pierce as a Ray Rice owner. In a Dynasty league, talented handcuffs are even more important. If you miss out on a young handcuff, you could have a lot of sleepless nights ahead. Conversely, if you nab the handcuff of an opposing owner, you should be able to net a solid prospect in return.
Every NFL RB is 'injury-prone', it's the nature of the Beast. Make sure you have the cuffs on with the playoffs around the corner...
_________________________________________________________________________________________

Colin Kaepernick got a chance to shine on Monday Night. And shine he did. He's still somewhat raw, but has the skillset and arm to be a Top 10 QB in the very near future. He adds an element to the 49ers offense that Alex Smith just cannot. Dynasty value rising in a hurry and by this time next year it's only going to be higher.
_______________________________________________________________________________________

Game Time Dynasty Decisions: The Dolphins Backfield
What to make of the Dolphins backfield? All three backs have talent and potential fantasy viability. We saw what Reggie Bush could do as a lead back last season after 5 years as a gadget player/receiving option in New Orleans. Daniel Thomas was drafted in the 2nd round to be a smash mouth back. He's definitely not lived up to the fantasy hype that surrounded him last summer, with 3.5 yards per carry on 227 NFL carries. Then there's the wildcard, rookie Lamar Miller. His skillset was borderline first round, but he fell into the Dolphins lap in the fourth round. He's raw and still has a lot to learn about playing in the NFL, but he's flashed when he gets the ball.
Reggie Bush is a free agent and hasn't been quite the back he was last season. Are the Dolphins going to give him a contract or let him walk and roll with the two youngsters? Reggie is an intriguing fantasy talent that could retain RB2 status if he can get 200+ touches in a season, whether it's with the Dolphins or on the open market.If you have Reggie, he's a solid hold. His Dynasty future is cloudy at the moment, but the talent is there. If you could acquire him on the cheap, make a move. Keep in mind even though he only has 866 career carries, he'll be 28 years old this offseason.

Daniel Thomas is a situational talent. The Dolphins seem committed to getting him involved in the offense (at Bush's expense) and he's been nothing short of average. If he would ever run without hesitation, he could be an RB2. Unfortunately, unless he goes to the Marshawn Lynch School of Beast Mode Running, he's more of an RB3/Flex play without Reggie. Wait to see what the Dolphins do this offseason. Should they let Reggie Bush walk, you might be able to sell high on Thomas.

Back to the wildcard - Lamar Miller. He's explosive and capable of being a high-end RB2 if he can develop. He runs with solid acceleration and power, plus he's capable of being a dangerous receiver out of the backfield. He's the riskiest of the group, but also represents the most Dynasty upside. He's a great acquisition with your Dynasty trade deadline approaching. If you own him, stay patient. He'll get more involved in 2013 and could eventually take over as the lead back in Miami.
_______________________________________________________________________
NFL Trade Deadline Approaches
October 30, 2012
With Hurricane Sandy reaking havoc on the East Coast, the NFL Trade Deadline has been pushed back until Thursday. The Deadline is traditionally quiet, but there are some big names that 'could' be on the move this week.
Rumor has it that Jared Cook requested a trade from the Titans. He hasn't lived up to breakout expectations, but is still very young and very talented. If he does move out of town, talented but raw rookie Taylor Thompson will be the Dynasty beneficiary.
Steven Jackson could be shipped out if a contender comes knocking. He has literally been the entire Rams offense for most of his career and a true bellcow back. He's clearly not the same player he once was, but a change of scenery could give him one final attempt at regular fantasy value. Darryl Richardson is playing 2nd fiddle right now and has shown plenty of speed, but do not forget about 2nd round pick Isaiah Pead. It's taken him a bit longer to figure things out, but he has major fantasy potential.
Will LeGarrette Blount find his way out of Tampa Bay? Doug Martin is clearly the lead back and intriguing rookie Michael Smith would gain Dynasty appeal if Blount is wearing a different uniform.
The chances are slim, but a Dwayne Bowe trade would open the door for Jon Baldwin and Dexter McCluster to see more passes. Long term, Baldwin has WR1 potential, but needs to flash it more consistantly.
DeAngelo Williams seems to have fallen out of favor a bit in Carolina and he could be on the block, but his salary is a deterrant. It makes sense for the Panthers to move him with a better starting RB, a tank of a back-up and a running QB. He'll more likely be cut in the offseason.
Mark Ingram needs a change of scenery. It's unfair to call him a bust at this point, but he needs to get into a system that will utilize his skillset.
The Seahawks probably want insurance for rookie Russell Wilson, but if they are sold on him, they could get some value for Matt Flynn.
It would be great if the trade deadline was similar to baseball's late July feeding frenzy, but don't get your hopes up for anything major...
 ___________________________________________________________________________________________
Shhhh...
October 17, 2012
Pretty much sums it up. Your extremely brief window to perhaps even have a shot at buying low on Aaron Rodgers in a Dynasty league is now over.
You must install Adobe Flash to view this content.
_____________________________________________________________________

An NFL QB Conversation
October 9, 2012
This little nugget hit the internet last week courtesy of Lobshots.com and it is highly entertaining. Although the Patriots/Broncos game was a couple days ago, it's worth reading if you haven't. Snippet below and a link to the entire thread is
here
.
_______________________________________________________________________________________
October 3, 2012
Speaking of frustration...Santonio Holmes, New York Jets malcontent receiver, is out for the year with a Lisfranc injury. He had recently snapped a string of 27 games without 100 yards receiving and was the clear go-to receiver on the team. Not known as a leader in the locker room, he really didn't lead by example on the field either. With only one 1,000 yard receiving and never more than 8 TD's or 79 catches in a season, Holmes proved year in and year out to be one of the most over-rated fantasy receivers in the game. Unfortunately for Jets fans, the team is on the hook for $7.5 million next season. His Dynasty arrow is pointing down...even further.
___________________________________________________________________________________________
Frustration Factor
October 1, 2012
Dez Bryant oozes potential. It's his ability to be a Top 5 wide receiver that has made him one of the most desirable Dynasty properties since he entered the league. At the same time, though, it also can be frustrating and hinder your team's development. If you own him in a Dynasty league, it's likely that you've sank either a very early Rookie Draft or Start-up pick on him, or paid handsomely via trade.That leaves you with a pretty substantial investment in Dez.
Thus far, the results have been mixed at best. He's flashed potential in his first two seasons, but has yet to put it all together. Last year, he did have 63 catches for 928 yards and 8 TD's, but fantasy owners were left with a feeling that he could have had more. He was supposed to be not only an instant impact talent, but a star. Sometimes, it just doesn't happen that quickly, even for the most talented players.
Putting all of the off field issues aside, he's still a risky prospect. The upside is tantalizing and at this point if you own him, you need to stick it out and see if he can mature and put things together. If you have the stomach for it, try to buy low because he's only in his third season and hasn't even hit his 24th birthday yet. Just remember that potential is a frustrating word in Dynasty football.
____________________________________________________________________________________________
Fantasy Controversy
September 25, 2012
Lost in all of the controversy of Golden Tate Simultaneous Possession Gate are the fantasy owners. It may have just been in deeper leagues, but is anyone thinking about those that went down in defeat because of a last second Russell Wilson TD pass or a huge haul by Golden Tate? Or maybe you could have won if the Packers just got that last second interception? MD Jennings in an IDP league?
Sure, the Packers are 1-2, but they'll bounce back, they have Aaron Rodgers. Chances are, your fantasy team doesn't. He makes for a great buy low candidate though, if you can get him. Now's the time to give that a try.
____________________________________________________________________________________________
Nicks Out for Thursday Night Football
September 20, 2012
Hakeem Nicks will miss the Thursday Night Football game against the Carolina Panthers, which would have been a chance for him to play in front of his hometown fans for the first time since college. It's a smart play by the Giants, who did not want to rush Nicks back onto the field after just playing (and playing extremely well) on Sunday.
In the short term, it's a disappointment for fantasy owners who were riding an emotional high after his 10 catch, 199 yard, 1 TD performance against the Bucs. In the grand scheme of the season, it's beneficial to have Nicks healthy towards the end of the year for both the Giants and your fantasy team.
There are only a handfull of receivers we'd rather have in a Dynasty league. There is a concern for Dynasty owners that he is somewhat injury-prone. This will be his 7th career game missed, having at least one in each of his 4 pro seasons. He's worth the risk, though, because his combination of skillset and youth make him a surefire Top 5 Dynasty receiver.
_______________________________________________________________________________________
September 17, 2012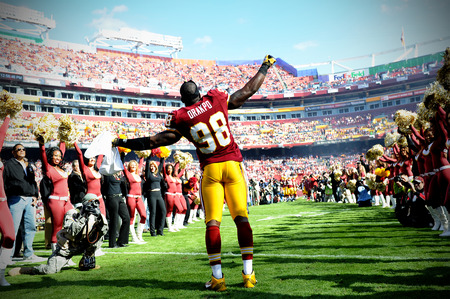 As you may have noticed, one of the new additions to the BeastOrBust is our coverage of Individual Defensive Players. Much like our feelings on Dynasty football four years ago, we see tremendous growth potential with IDP fantasy formats. Our newest writer, Nick Barnett, will be heading up the IDP coverage. Be sure to check out the tab on the main navigation for the latest articles!
Speaking of IDP, the Redskins were dealt a tough blow today. Not only did they lose starting DE Adam Carriker for the season, they also will be without the heart and soul of their defense, Brian Orakpo. Only 26, Dynasty leaguers need to keep Orakpo rostered. Carriker on the other hand, is droppable if you need the roster spot.
_________________________________________________________________________________________
September 13, 2012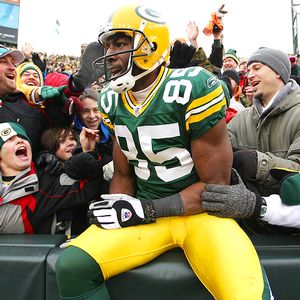 Greg Jennings, standout Packers wide receiver and by all accounts nice guy. He's been Aaron Rodgers go-to receiver since Aaron Rodgers has been under center in Green Bay. He's doubtful for tonight's clash with the Bears at Lambeau Field. That's the short term. He'll be 29 years old next Friday and is in a contract year. That's the long term.
Short Term: Greg Jennings missing time opens up the door for the dynamic Randall Cobb to get more reps at receiver. He's a playmaker and the Packers need to get the ball in his hands as much as possible. Last week, he saw snaps at receiver, as well as in the backfield and as a returner. He managed 9 catches for 77 yards and also rattled off a 75 yard punt return for a TD. More snaps at receiver and the Packers are going to get more plays like that. The door also will be opened for James Jones. He's a solid receiving option that Rodgers will rely on if Jennings is out of the mix. Both guys are startable if Jennings misses time.
Long Term: Greg Jennings is likely playing in his last season for the Packers and will command a high dollar contract on the open market in 2013. Bob McGinn of the Milwaukee Journal-Sentinel suggests the Packers should shop Jennings as the NFL trade deadline approaches. He's certainly got high trade value, moreso than Jones (who was rumored to be shopped earlier this summer) and Donald Driver, who is on his last legs as an NFL player. Whether it's in October or the offseason, moving away from Aaron Rodgers might not hurt his Dynasty outlook too much. He could receive a bump if he lands as a clear cut WR1 for a receiver needy team. In Green Bay, he's competing with very talented pass catchers and Rodgers has no problem spreading the ball around. Somewhere else, he might end up being the true focal point of a passing attack.
Jordy Nelson already has an established role in the offense and is poised to remain a high upside fantasy WR2. A Jennings departure could give him another bump in value. James Jones would get increased looks with Jennings permanently out of the picture. Long term, though, he's a slightly above average talent that will be a fantasy WR4/5 at best. Worth a roster spot, sure, but do not assume he's a shoe-in for Jennings type production.The real intrigue, though, is with Randall Cobb long term. We compared him to a Percy Harvin type of talent two years ago in our Draft Profiles. His build is not as strong, but he's every bit as versatile. Yes, with his big Week 1 and the Jennings injury, he's getting more exposure. Don't feel like you are buying high though, because there is much more to come for Dynasty leaguers. In 2012, he might still be an inconsistent weapon, but it's likely your last chance to buy-in at a reasonable price.
Should be interesting to see how things play out...
______________________________________________________________________________________________
Some QB That I Used To Know
September 10, 2012
The Beast Blog is going to be a spot where you'll get a bunch of quick hits, things that catch our attention and we want to share with our loyal readers. Here's a hilarious parody of Gotye's "Somebody That I Used to Know" from Humordy about Peyton Manning and Tim Tebow.
___________________________________________________________________________________________________

Welcome to the New Look Beast!
Just like any Dynasty owner, we are constantly looking to improve and get better. After 3 years of giving you some of the best Dynasty Fantasy Football coverage on the interwebs, BeastOrBust is getting a facelift. It's still the same great content that you know and love, but with a more user friendly look and functionality.
As always, we welcome any feedback, comments and questions you may have about the site specifically or Dynasty football. We have a number of new features coming your way this season, including the return of the BeastOrBust podcast!
Stay tuned for much more from the Beast...
Jeff and Bobby
Chief Fantasy Officers